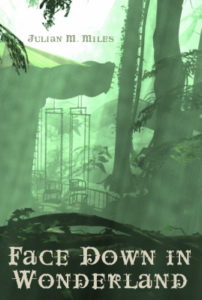 Bringing you stories of intrigue, action, love, and adventure from near and far.
The future cannot be predicted, but it can be imagined. Paradises lost and found; utopias and dystopias rediscovered, rebuilt or programmed: the possibilities are infinite.
From alternate history, through dystopian tomorrows, to the furthest reaches of mankind's colonisation of space, I use the flash fiction format, interspersed with short fiction pieces, to provide many tales to enchant and entertain.
This paperback-only collection – first of a trio, the other two being Long Way Home and Lifescapes – draws from the out-of-print first five volumes of my Visions of the Future anthologies, and includes two additional stories written for this volume.
AMAZON EDITION mybook.to/Face-Down-Wonderland
OPENDYSLEXIC EDITION mybook.to/Face-Down-Wonderlan-OD
Original cover artwork by Simon J. Mitchener (simonjm.deviantart.com). All Rights Reserved. Used With Permission.
Copyright 2014 Julian M. Miles
There's a huge digital omnibus that includes the stories from this trio of paperbacks (except the exclusives): Three Hundred Tomorrows