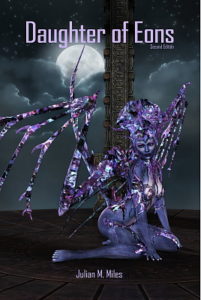 Bringing you stories of intrigue, action, love, and adventure from near and far.
My annual 'Visions of the Future' anthology series showcases tales from many possible futures in a heady mix of flash and short fiction, but I became aware flash fiction is a format that does not work for some people.
This revised and expanded second edition is for them (and anyone else who enjoys thrilling science fantasy tales). It collates the very best of the short stories from the out-of-print first five 'Visions of the Future' anthologies (2011 – 2015) into a single volume reminiscent of the classic pulp and weird sci-fi collections from the latter half of the twentieth century.
This can be regarded as a companion volume to Circuits in the Sky.
AMAZON EDITIONS mybook.to/daughter-of-eons-2e
OPENDYSLEXIC EDITION mybook.to/daughter-of-eons-2E-OD
EBOOKS books2read.com/daughter-of-eons-2E

Original cover artwork by Tina LC. All Rights Reserved. Used With Permission.
Copyright 2022 Julian M. Miles