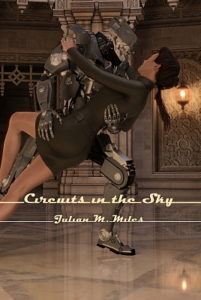 Bringing you stories of intrigue, action, love, and adventure from near and far.
My annual 'Visions of the Future' anthology series showcases tales from many possible futures in a heady mix of flash and short fiction, but I became aware compact flash fiction is a format that does not work for some people.
This collection draws from volumes 6 thru 11 (2016 – 2021) of the Visions of the Future series to provide a selection of long-form flash and short fiction for your entertainment, making a second volume reminiscent of the classic pulp and weird sci-fi collections from the latter half of the twentieth century.
This can be regarded as a companion volume to Daughter of Eons.
AMAZON EDITIONS mybook.to/circuits-in-the-sky
OPENDYSLEXIC EDITION mybook.to/circuits-in-the-sky-OD

EBOOKS books2read.com/circuits-in-the-sky
Original cover artwork by Simon J. Mitchener (simonjm.deviantart.com). All Rights Reserved. Used With Permission.
Copyright 2022 Julian M. Miles.