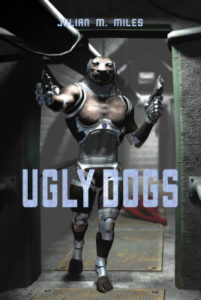 There's something uglier than usual on the streets of San Diego-Tijuana. It's big and mean. Some say unkillable.
Specialist Calley Reid isn't so sure. Dormac, her wardog, agrees. They've never met anything they haven't been able to stop.
A chance encounter puts them on the trail of something unbelievable.
The United Republics of America have never been at ease with each other, let alone other nations or the colony worlds. What's coming could tear everything apart, unless Calley and Dormac can follow the clues to a hidden revelation, and come up with a way to stop those behind it.
A cyberpunk mystery thriller coming in Spring/Summer 2025.
Original artwork by Simon J. Mitchener (simonjm.deviantart.com). All Rights Reserved. Used With Permission.
Copyright 2021 Julian M. Miles