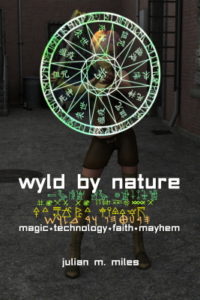 Bringing you stories of magic, technology, faith, and mayhem from near and far.
No matter how far technology takes us, belief in magic and gods flourishes in the shadows. Whether undiscovered science or unacknowledged realms, belief in the unseen and occasionally sentient persists.
This omnibus collects stories that feature encounters with powers outside the realms of conventional science, drawn from the first nine volumes of my Visions of the Future anthologies.
AMAZON EDITIONS mybook.to/Wyld-by-Nature
OPENDYSLEXIC EDITION mybook.to/Wyld-by-Nature-OD
EBOOKS https://books2read.com/Wyld-by-Nature
Original cover artwork by Simon J. Mitchener (simonjm.deviantart.com). All Rights Reserved. Used With Permission.
Copyright 2020 Julian M. Miles