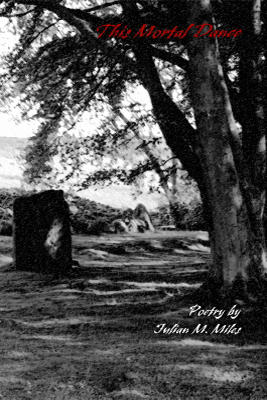 Here's to the brothers and companions
To the ladies and lovers and friends
To loving the journey not just the destination
And to the road that never ends.
*
I've been writing poetry for longer than I've been writing stories. This collection contains a selection of my best verse from the first 30 years.
Poetical contemplations on life, the nature of friendship, and the various aspects of love and grief. Verses reflecting on my pagan path, along with fantastical pieces that embroider on weird and supernatural themes.
Sometimes humorous, sometimes solemn, occasionally both; a book of hope reflected.
AMAZON EDITIONS mybook.to/This-Mortal-Dance
OPENDYSLEXIC EDITION mybook.to/This-Mortal-Dance-OD
EBOOKS https://books2read.com/This-Mortal-Dance
Copyright 2011 Julian M. Miles