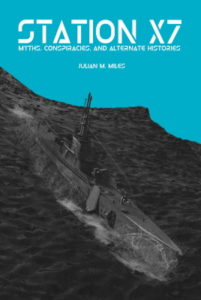 Bringing you stories of weird events, unsolved mysteries, and strange visitations.
Urban legends and conspiracy theories, hidden history and concealed discoveries. The twentieth and twenty-first centuries produced many, some simply recording mysteries passed down by word of mouth from earlier times.
This omnibus collects stories that feature a range of unusual situations – many based on recorded events – drawn from the first nine volumes of my Visions of the Future anthologies.
AMAZON EDITIONS mybook.to/Station-X7
OPENDYSLEXIC EDITION mybook.to/Station-X7-OD
EBOOKS https://books2read.com/Station-X7
Original cover artwork by Simon J. Mitchener (simonjm.deviantart.com). All Rights Reserved. Used With Permission.
Copyright 2020 Julian M. Miles