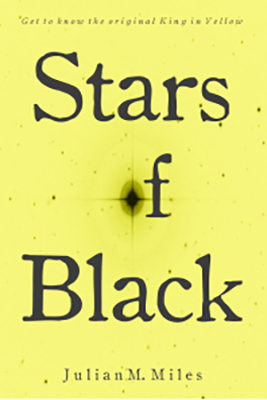 There is a tainted play written by a genius who killed himself when it was completed. Any who read it will experience epiphanies beyond endurance.
Countless centuries of its malign influence are spanned by the stories in this book. From seventeenth-century buccaneers to twenty-first century soldiers, from Victorian slums to modern suburban streets, the play and the monarch it tells of have wrought ruination and salvation.
Inspired by the weird horror of nineteenth century authors Robert W. Chambers and Ambrose Bierce –
Come and meet the original King in Yellow.
AMAZON EDITIONS mybook.to/Stars-of-Black
OPENDYSLEXIC EDITION mybook.to/Stars-of-Black-OD
EBOOKS https://books2read.com/Stars-of-Black or direct from Godless.
Copyright 2013 Julian M. Miles
PS: The hardback has a full-wrap cover –