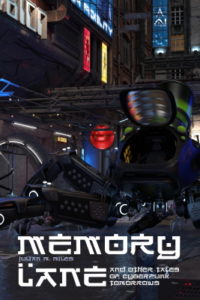 Bringing you stories of cyberpunk tomorrows from near and far.
Every dystopia has an underbelly, where mean streets and noir lifestyles mix and clash, driven by the needs of greed and survival.
This omnibus collects stories that feature many incarnations of cyberpunk, drawn from the first nine volumes of my Visions of the Future anthologies.
AMAZON EDITIONS mybook.to/Memory-Lane
OPENDYSLEXIC EDITION mybook.to/Memory-Lane-OD
EBOOKS https://books2read.com/Memory-Lane
Original cover artwork by Simon J. Mitchener (simonjm.deviantart.com). All Rights Reserved. Used With Permission.
Copyright 2020 Julian M. Miles