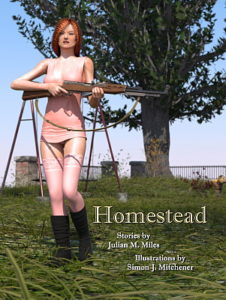 This is a collection of CGI art and a speculative fiction anthology – in one book.
In 2016, I created a limited-edition (Walking Home) from stories that had been illustrated by artist Simon Mitchener.
It proved to be popular, and sold out quickly. Ever since, people have asked for a new edition, and for that edition to be available worldwide. Initially, I didn't think I'd be able to produce something of sufficient quality via Print-On-Demand, but after a couple of months work, including the production of a new master due to the format revisions necessitated by the change from the A4-format of the limited edition to 8″x11″ (20cm x 27.5cm – the biggest hardback format Amazon POD can handle), I managed to make a fine edition that I'm happy with, and am delighted to make available via worldwide.
This hardback collection collates every story and art combination created to date (including all the full-colour art content from Walking Home) into a single definitive edition.
AMAZON EDITION mybook.to/Homestead_Hardback
Original cover artwork by Simon J. Mitchener (simonjm.deviantart.com). All Rights Reserved. Used With Permission.
Copyright 2022 Julian M. Miles.
Plus, the original perfect bound A4-format signed limited edition is still available –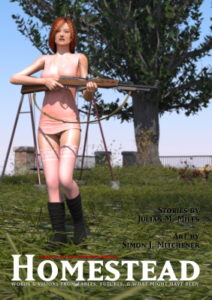 It's £8 plus £4.45 shipping in the UK.
If you're interested in a copy, email me (if you're not in the UK, let me know where you are so I can work out the correct shipping cost).
Did you buy a copy of Walking Home? Then you can get this for £5 + shipping – mention you have Walking Home in your email.