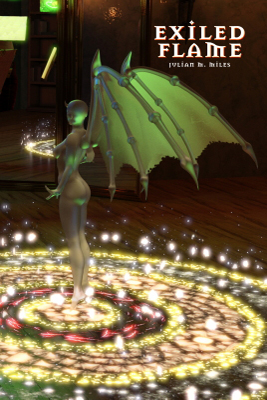 DS Tanner and DC Reeves don't know why this gang are stealing bodies, nor do they know where they get the advanced technology they use to ensure their successes. They're sure the military know more than is being disclosed, and there's a hacker involved in ways that are supposed to be impossible.
They need to get lucky, and soon.
Narbyl is doing the best he can to protect his people. Until they stop coming, he'll continue to do what he has to, and deal with any consequences as they arise. However, what arrived today could have consequences beyond belief.
If he's unlucky, it's going to kill millions.
A tale about angels, bodysnatching, criminal investigation, demons, goddesses, hacking, loyalty, and magic in a cyberpunk future.
AMAZON EDITIONS mybook.to/Exiled-Flame
OPENDYSLEXIC EDITION mybook.to/Exiled-Flame-OD
EBOOKS https://books2read.com/Exiled-Flame
Original artwork by Simon J. Mitchener (simonjm.deviantart.com). All Rights Reserved. Used With Permission.
Copyright 2020 Julian M. Miles
PS: The hardback has a full-wrap cover –